HOLY CONVOCATION 2006
Holy Convocation September 14 - 17, 2006
Thank you LORD for visiting us at HOLY CONVOCATION 2006.
Holy Convocation 2006 was a time of gathering for the saints to hear and receive from GOD. The Men and Women of GOD went forth and ministered to the people of God each day. Some were healed, some delivered, some challenged, and some received a word.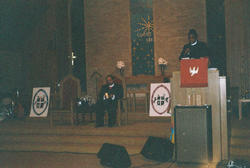 Holy Convocation 2005
Be sure to check out the photos. See the Photo Gallery.