About CDCMF
We are endeavoring to have a unified body of diversified affiliates across America as well as representation from other nations, to bring to pass this vision for networking through purpose and destiny. The Fellowship's goal is to be an anchor, covering and strength to ministries of all colors, races, creeds and denominations. To be able to offer a common bond of integrity, character and responsibility to all that choose to become a part.
Apostle Dr. Carol Sherman,
Senior Pastor of Harvest Time
founded CDC Ministry Fellowship
in the early 90's. Dr. Carol Sherman
is the General Ovrseer and
Apostle Duane Sherman is
the Presiding Prelate...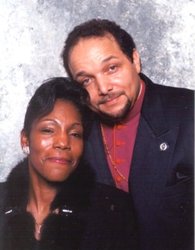 Apostles Duane & Dr. Carol Sherman