Bishop Dr. James Lee Moore, Sr. Memorial Page
In Loving Memory of Bishop Dr. James Lee Moore, Sr.
On Thursday April 16, 2020 Bishop Dr. James Lee Moore, Sr., CDCMF Gulf Coast Regional Bishop passed away in the hospital...
Bishop was the Senior Pastor at St. Peter MB Church, Beulah, Ms., Silver Mount MB Church, Lamont,Ms., Poplar Grove MB Church,Shaw, Ms....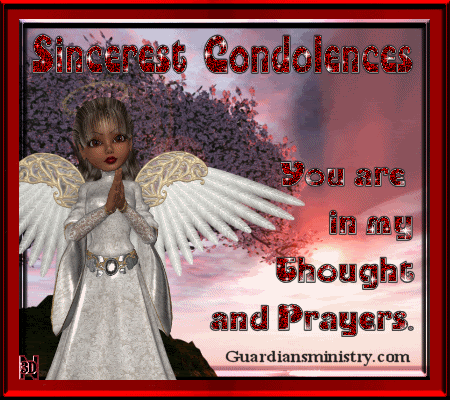 Guardians Tag Ministry
On behalf of Apostles Duane & Dr. Carol Sherman, CDCMF College of Apostles & Bishops, along with all of CDCMF members; we give our condolences to the Moore family... CDCMF also recognizes that the Moore family is having the monumental task of mourning Delilah Moore and Rev. Jerome Moore within the past several days...You are in our prayers daily...
2 Corinthians 5 For we know that when this tent we livein now is taken down - when we die and leave these bodies - we will have wonderful new bodies in heaven, homes that will be ours forevermore, made for us by GOD Himself and not by human hands. 2 How weary we grow of our present bodies. That is why we look forward eargerly to the day when we shall have heavenly bodies that we shall put on like new clothes. 3 For we shall not be merely spirits without bodies. 4 These earthly bodies make us groan and sigh, but we wouldn't like to think of dying and having no bodies at all. We want to slip into our new bodies so that these dying bodies will, as it were, be swallowed up by everlasting life. 5 This is what GOD has prepared for us, and as a guarantee HE has given us HIS HOLY SPIRIT. 6 Now we look forward with confidence to our heavenly bodies, realizing that every moment we spend in these earthly bodies is time spent away from our eternal home in heaven with JESUS. 7 We know these things are true by believing, not by seeing. 8 And we are not afraid but are quite content to die, for then we will at home with the LORD. 9So our aim is to please HIM always in everything we do, whether we are here in this body or away from this body and with HIM in heaven...
Living Bible (TLB) The Living Bible copyright 1971 by Tyndale House Foundation...
Greeting
To The Family of Bishop James Lee Moore, Sr. our prayers are with you. In Respect and honor in the loss of a father, grandfather, brother and friend. Our prayers are continuing for y'all.
God in His Infinite wisdom has seen fit to move out of our Natural Presence Bishop James L. Moore, Sr. But With Confidence we know he is present With The Lord 2Cor. 5:8
Yes death has Invaded our Ranks, as The Bishop in The Gulf Coast Region has gone home to be with LORD. Thanks Bishop Moore In your Sharing, your Friendship, your Fellowship, In Building a godly Relationship, In The Unity in the body of Christ. Thanks for your Time.
Forever.
Apostle Dr. Olymphia Patton
CDCMF Chair of the Presbytery Board
"For we Walk by Faith and not by Sight" "And now abides Faith, Hope and Love" (2 Corinthians 5:7) (1 Corinthians 13:13) Bishop Dr. Kevin A. Sutton, Senior Pastor Pastor Terry J. Sutton
April 22, 2020
Resolution of Bishop Dr. James Lee Moore Sr.
Bishop Dr. Kevin A. Sutton, Pastor Terry J. Sutton and the members of Word of Faith Ministries extend our deepest sympathy to the family of Bishop Dr. James Lee Moore Sr.
Whereas, GOD IN HIS GREAT POWER has removed from our mist a great servant of God, father, grandfather, church leader and a friend.
Be it known, We are confident, I say, and willing rather to be absent from the body and to be present with the Lord, 2 Corinthians 5:8. One thing we know that Bishop Moore was truly a man of God and a great example to the community and to those who knew him across the country.
Allow God to cover and console you.
Allow Jesus to encourage and uplift you.
Allow the Holy Spirit to direct and comfort you.
We commend to the family, The Divine Comforter who is able to sustain, encourage and strengthen all who call upon Him. We know that Bishop Moore is at peace with God now, and is rejoicing in his Happy Heavenly Home. He will truly be missed by all who loved him dearly. We love you all with the love of Christ and you are in our prayers.
THEREFORE BE IT RESOLVED:
A copy of this resolution will be placed in our records and a copy given to the family.
Humbly Submitted by,
Bishop Dr. Kevin A. Sutton, Senior Pastor and
Midwest Regional Bishop of CDC Ministry Fellowship
Pastor Terry J. Sutton, Co-Pastor
_________________________________________________________
Office and Mailing Address: 2916 Stickney Ave. Toledo, OH 43608
Worship and Outreach Center: 2911 Stickney Ave. Toledo, OH 43608
Phone: (419)727-0877 / (419)466-1388
E-mail: w.ministries@sbcglobal.net