Bishop DeArmond Mathews
In The Loving Memory Of Bishop DeArmond Mathews
2 Corinthians 5:8
w
e are confident, I say, and willing rather to be absent from the body, and to be present with the Lord.
On behalf of Apostles Dr. Duane and Dr. Carol Sherman and the entire CDC Ministry Fellowship, we would like to send our prayers and condolences to Apostle Rhonda Mathews and family.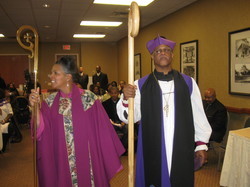 Jehovah Jireh Ministries
Resolution
To: The Family of Bishop De Armond Mathews
Whereas, God has called him, from his home and his dear family, his wife Apostle Rhonda and loved ones the Mathews who loved him. Bishop De Armond has passed from his labors to his reward; into a land far fairer than ours that words can not describe Bishop De Armond was a part of the Body of Christ, where he will be truly missed, be it known, that he was loved deeply. But you know you will see him again!!
Be it known, "There remaineth, therefore a rest to the people of God" (Hebrews 4:9) knowing this, "Let the peace of God that surpasses all understanding guard your hearts and minds through Christ Jesus". Christ, having made peace through his blood, for him an eternal place with him. Heaven is glorious and beautiful, more to be desired now because of the entrance he made through its shining gates, your loved one, who left this earth on Monday February 28, 2011! Bishop De Armond's Residence is now in Heaven, with God, where Bishop De Armond is saying, "I wish my family could see the beauty of this place, called Heaven, where I am now truly I am at peace now, there are no more tears or suffering here where I now abide".
Let us think of this last and sweetest home-coming into the Father's house, where Jesus stated there are many mansions, where our dear ones are waiting for us. May the blessed Lord Jesus come into our hearts completely and may we rest our weary souls on him. "Blessed are the dead which die in the Lord from henceforth: Yea, saith the Spirit, that they may rest from their labors; their works do follow them" Revelation 14:13.
We will miss our Bishop of Ethics & Etitquette, his committed heart to the things of GOD, his protectiveness of the Episcopal Office, along with his sense of humor. CDC is thankful of the time you gave us. Thank you Apostle Rhonda for sharing him and his giftings with us...
Resolved, therefore, that the sympathy of HARVEST TIME INTERNATIONAL CHURCH, DR. CAROL SHERMAN'S MINISTRY AND CDC MINISTRY FELLOWSHIP be extended to the Families. May God continue to watch over you is our prayer and may the precious memories of Bishop De Armond bless and burn within your hearts and keep you forever on the road that leads to God.
A copy of this resolution will be given to the family of Bishop De Armond and a copy will be filed with our office. With our sincere deep-felt love and sympathy for the loss of your loved one your family will forever be in our prayers.
Humbly submitted by,
APOSTLE DR. DUANE J. SHERMAN Ph.D., Presiding Prelate of CDC Ministry Fellowship and APOSTLE DR. CAROL J. SHERMAN Ph.D., Th.D., D.D. Senior Pastor of Harvest Time International Church, Dr. Carol Sherman's Ministry and CDC Ministry Fellowship Family